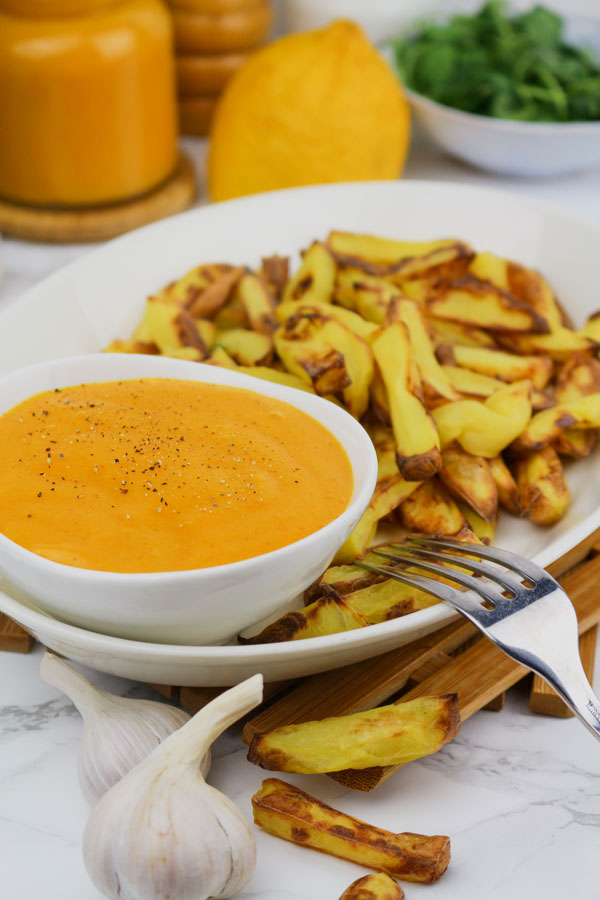 Healthy and vegetable "cheese" sauce that tastes like the real thing!
Have you ever thought of making cheese sauce from potatoes?! Yes, it may indeed sound unbelievable at first, but it is quite possible. Of course, it is not a sauce that tastes exactly like real cheese, but it is nevertheless very flavourful and has a surprisingly cheese-like texture.
Although the potato has the main role in this recipe, you may not know that the sauce contains potatoes when you taste the end result. Potato is a really versatile tuber! Together with the right herbs and seasonings, the taste of potato goes into hiding and a deliciously silky "cheese" sauce is prepared, which together with crispy oven fries will be really delicious!?
Quantity: for two to three persons
Preparation time: 35 minutes
Difficulty level: easy
You will need:?
For the sauce: 
2 large potatoes
1 medium-sized carrot 
? tsp ground turmeric (initially add less rather than more, turmeric is very dominant in taste and can spoil the sauce if overdosed)
li>? tsp cayenne pepper 
1 tbsp freshly squeezed lemon juice 
1 tsp sea salt 
? tsp garlic powder
? tsp black pepper 
? cup of hot water or vegetable broth
For the baked fries: 
3-4 medium-sized potatoes 
? tsp sea salt 
1 tsp paprika 
? tsp dried oregano 
? tsp garlic powder 
How to make "cheese" sauce? 
Wash, peel and cut potatoes and carrots and steam until soft. When the vegetables are done, place them in a food processor, add the seasonings and water or broth. Initially, pour the liquid in smaller quantities and add more as needed. Process the mixture until a smooth sauce with a silky texture is formed.
For baked fries, wash and slice the potatoes, mix with seasonings, spread on a baking tray covered with baking paper and bake at 180 degrees until the fries are golden brown (approx. 35-40 minutes).
PS. In order for the fries becoming crispy without oil, arrange them on the baking tray so that the potatoes are not piled on top of each other. In this way, they become nicely crispy all around without using any fatty substance. Serve the "cheese" sauce together with the baked fries.
The original recipe comes from the Medical Medium recipe collection, and you may want to discover it HERE.