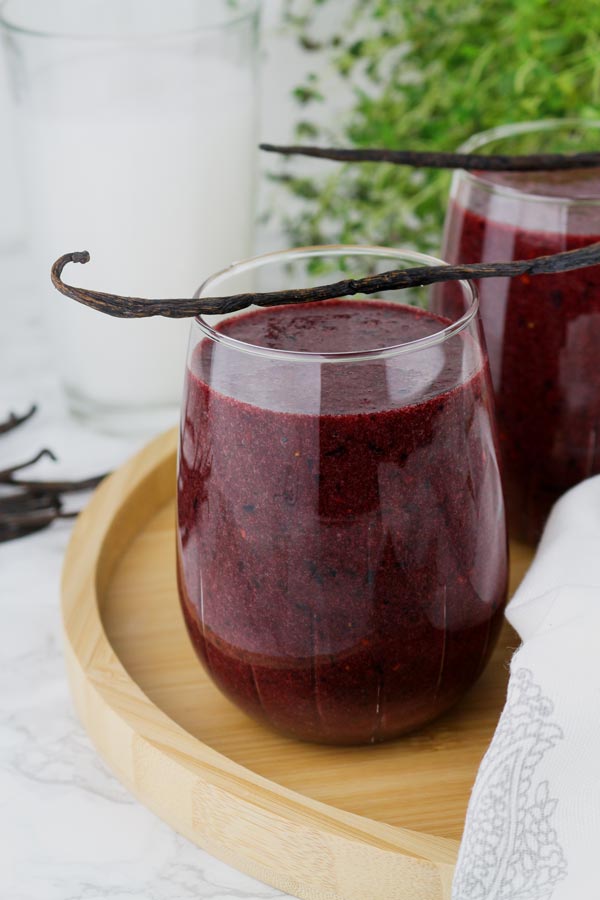 Healthy berry smoothie with natural vanilla
A berry smoothie with a summer ambience, with a nice flavour nuance added by natural vanilla. By the way, did you know that vanilla is actually a really powerful superfood (not to mention the incomparable taste!)? Namely, vanilla contains both useful minerals and anti-pain and anti-inflammatory properties. It is particularly effective in case of fatigue and joint pain, for instance. Due to its wonderful taste, vanilla is perfect as an extra ingredient in various sweet dishes and smoothies, forming a truly delicious combination together with refreshing berries. Be sure to try it, we believe it might become your new favourite!?
Quantity: for two smoothie lovers
Preparation time: 10 minutes
Difficulty level: easy
You will need:?
? cup (approx. 100g) of frozen blueberries
? cup (approx. 100g) of frozen raspberries
? cup (approx. 100g) of frozen strawberries
1-2 cups (250 – 300ml) unsweetened almond milk (or water or organic apple juice)
3 large ripe bananas
1-2 tsp natural vanilla powder (to achieve the best flavour nuance, it is recommended to use Ceylon mild vanilla powder, for instance SEDA)
1 tbsp maple syrup?
blender?
How to make three berry smoothie  ? 
Place all ingredients in a blender and whiz until silky smooth.