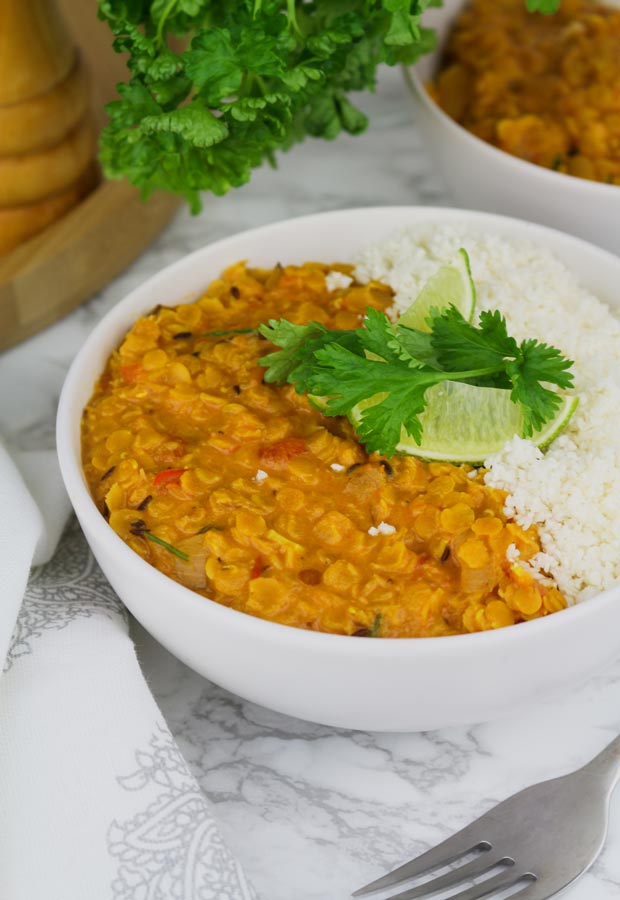 Spicy red lentil curry with cauliflower rice
If you like spicy Indian-style dishes, then the following red lentil curry recipe might just be for you. The garam masala spice mix adds an Indian-style flair to the curry, and if you are a spice lover, this is definitely something for you! Invigorating curry with light cauliflower rice is a true comfort meal that invigorates both body and mind. Thankfully, its preparation is not rocket science at all, and this deliciously warming dish is prepared with little effort, and is also suitable for enjoying on weekday evenings. 
Quantity: for 3-4 curry lovers
Preparation time: 35 minutes
Difficulty level: medium
You will need:?
1 tbsp olive oil (optional, you can also use water if you wish. Then you will probably need a little more than 1 tbsp, so add as needed so that the onion-garlic does not burn) 
1 bay leaf 
1 tablespoon cumin 
1 medium-sized onion 
3 garlic cloves 
2 cm piece of ginger 
1 chili pod 
? tsp ground coriander
1 tsp garam masala (for instance SEDA , make sure that the seasoning mixture does not contain starch, sugar or other unnecessary additives)
? tsp turmeric 
400g crushed tomatoes 
500-600 ml vegetable broth (add more/less if necessary)
190g red lentils 
200ml coconut cream (if you want a lighter version, you can significantly reduce the amount of coconut cream or omit it altogether ) 
?  lime juice (freshly squeezed)
sea salt and pepper (to taste)
a handful of fresh coriander 
1 large cauliflower head 
How to make red lentil curry? 
Heat olive oil or water in a pan and scatter cumin and 1 bay leaf into the pan. Roast them for about 30 seconds and then add the finely chopped onion. When the onion starts to turn glassy, add finely chopped garlic, ginger and chili and braise another 2-3 minutes. Next, add the spices to the pan and braise for another 30-60 seconds, stirring constantly. Then pour the crushed tomatoes, broth and lentils into the pan. Let it simmer until the lentils are tender, about 20 minutes.
While the curry is simmering, prepare the cauliflower rice. To do this, wash and cut the cauliflower into florets and place in a food processor. Process the cauliflower florets until crumbs resembling a grain of rice are formed. If desired, you can heat the cauliflower rice a little in the pan or serve it raw. When the lentils in the curry have softened, stir in the coconut cream, lime juice and salt. As the very last step, stir chopped fresh coriander into the curry and turn off the heat. Serve the zippy curry with cauliflower rice, fresh coriander and lime wedges.
See other 100% vegetable recipes our online in the recipe book.