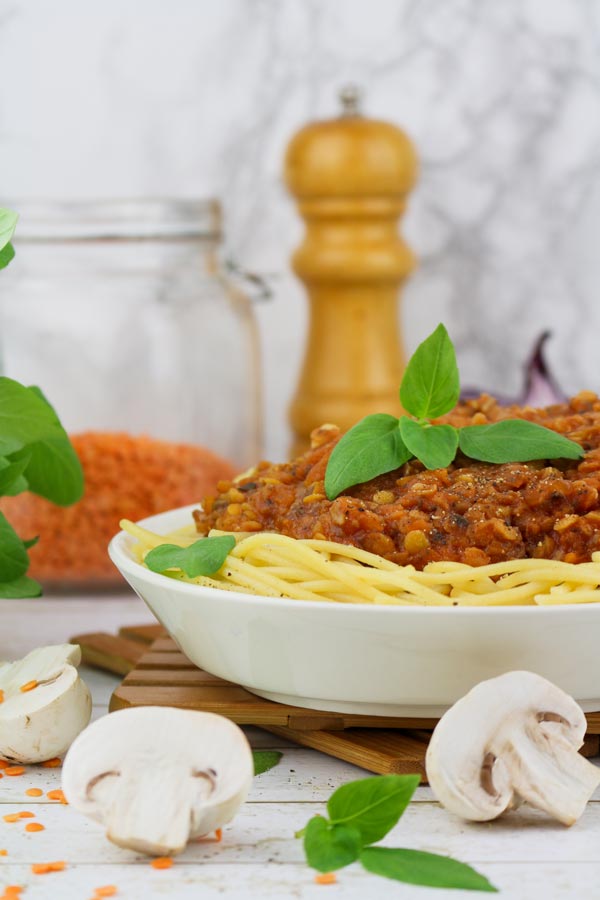 Fully plant-based red lentil bolognese
Bolognese – an Italian delicacy in a vegetable-rich and whole-vegetable way! Despite the fact that it is a fully plant-based version of a very classic Italian pasta dish, it does not fall short in taste – on the contrary! It is full of flavour, hearty and nutritious, but also easily digestible, without burdening your body with excess fat and gluten.
Also bursting with vegetables, making the enjoyment of powerful fruits really pleasant for all those who might not otherwise be such big fans of vegetables. Prepare bolognese for dinner or serve it to your friends on a festive table!
Quantity: for four 
Preparation time: 60 minutes 
Difficulty level: easy 
You will need: 
200 g dried red lentils 
50 g chopped ribbed celery 
1 medium onion (finely chopped)
1 tsp onion powdert 
? tsp chilli flakes 
1 tsp Italian-style herb mixture 
200 g grated carrot
4 garlic cloves (crushed) 
1 tbsp watert 
280 g fresh agaricus (chopped into small cubes)
750 g crushed tomatoes 
1 tsp coconut sugar or maple syrup 
480 ml vegetable broth or water 
sea salt and pepper (to taste) 
250 g gluten-free pasta of your choice 
1 bay leaf (to taste) 
fresh basil (for serving) 
How to make lentil bolognese? 
First heat a pan or pot with a higher rim  and add chopped onion, celery, mushrooms, carrot and water. Oil is replaced by water in the recipe. Braise the vegetables for 3-4 minutes and then stir in the crushed garlic, coconut sugar or maple syrup and seasonings. Braise for another 1-2 minutes, stirring constantly.
Then stir in the crushed tomatoes, broth or water, lentils and bay leaf. Mix carefully, let the mixture boil and braise for another 20 minutes until the lentils are soft and the excess liquid has evaporated. While the sauce is simmering, cook your favourite gluten-free pasta according to the instructions on the package.
When the bolognese is ready, add salt and pepper to taste and serve with pasta and fresh basil. Enjoy!