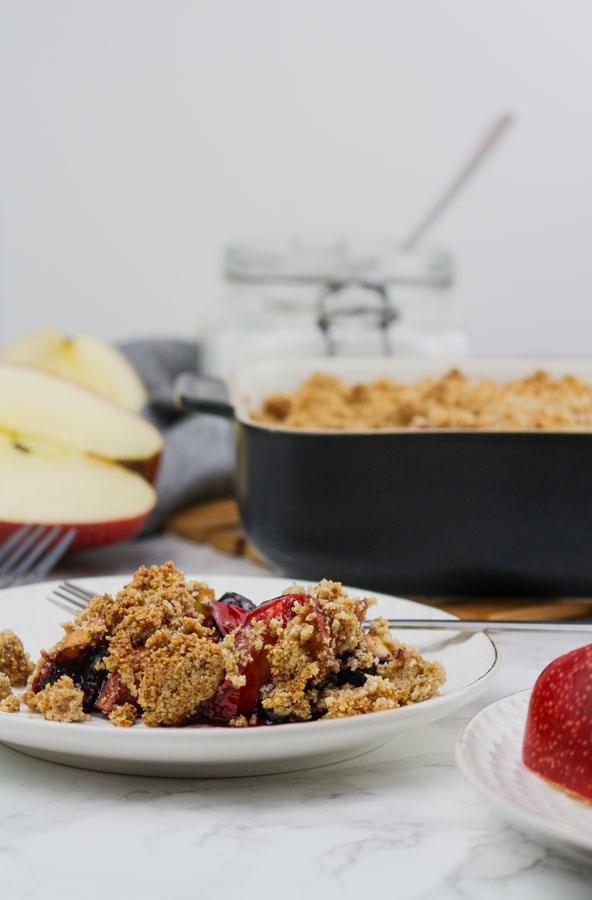 Melt-in-the-mouth berry crisp with apples
This berry treat with a crispy coating is a really simple and refreshing dessert that would certainly caress you taste buds. As always, without refined sugar and wheat flour! The crisp is filled with juicy apple cubes together with berries and coconut sugar, decorated with a slightly crispy coating. Coconut sugar adds just the right, gently caramel touch to the crisp. The berries add a bit of tartness, while the apples and cinnamon add the final touch and the perfect flavour combination is born! The preparation is so simple and quick that it is also suitable for enjoying on weekday evenings. We believe that this crisp can become the new favourite treat for any old and young gourmands and it is also suitable for a festive table.
Quantity: for 6-8 gourmands 
Preparation time: 40 minutes
Difficulty level: easy
You will need: 
For the apple-berry filling: 
400g apples of your choice (chopped)
500g blueberries or other berries of your choice (fresh or frozen)
65g (5 tbsp) coconut sugar 
2 tbsp tapioca starch&nbsp ;
1 tbsp freshly squeezed lemon juice 
1 tsp cinnamon 
For the crumb: 
90 g gluten-free oat flour 
60 g almond flour 
50 g coconut sugar 
40 g tapioca starch 
50 g coconut oil 
 1 tsp vanilla (optional)
How to make berry crisp? 
First preheat the oven to 180 degrees. Then cut the apples into a larger bowl and add the berries, sugar, starch, lemon juice and cinnamon. Mix thoroughly until all ingredients are well mixed. Pour the fruit-berry mixture into a larger baking tray (e.g. a 15×23 cm or 20×20 cm tray is applicable). For the coating, mix together the crumb ingredients. Start with dry ingredients. At first, mix the starch, sugar and oat flour in a bowl. Then add coconut oil and squeeze between your fingers until the mixture takes the form of slightly crumbly crumbs. If the mixture feels too dry, add a little more coconut oil. When you have finished the crumb, sprinkle it on the berry-apple mixture waiting in the baking tray and place the treat in the oven to bake for 30 minutes, until the crisp is golden brown on top. Enjoy warm!