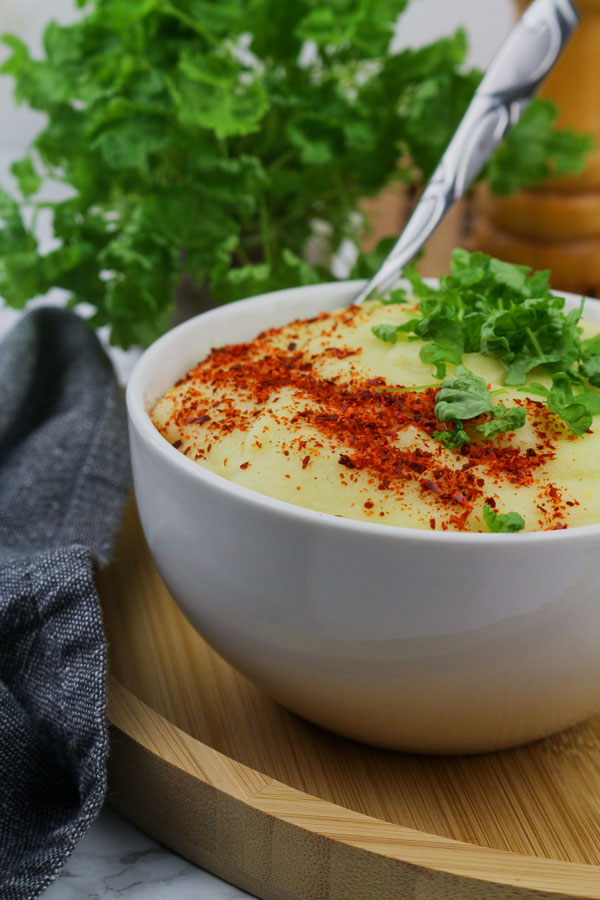 Creamy and invigorating potato cauliflower puree
You are certainly familiar with classic mashed potatoes from childhood, but what if you took this dish to the next level by adding nutritious cauliflower? Cauliflower adds creaminess to the potatoes and enhances the puree with useful vitamins and minerals. It is a perfect substitute for butter, cream and milk, which are usually added to mashed potatoes. The vegetables themselves make the puree so tasty that there is no need to add anything other than the herbs. If you are used to adding milk and butter to mashed potatoes, then certainly try this vegetable version and believe us when we say that you will not be disappointed in the taste!
Quantity: for two to three 
Preparation time: 35 minutes 
Difficulty level: easy
You will need: 
4-5 large potatoes (peeled and chopped)
one small head of cauliflower (cut into florets)
2 tsp garlic powder
2 tsp onion powder
1 /2 tsp paprika or chili powder (for serving)
Fresh herbs (for serving)
Himalayan or sea salt (to taste, optional)
Steam cooker
How to make cauliflower mashed potato? 
Peel and cut the potatoes, cut the cauliflower into florets and place them in the steam cooker. Cover the pot with a lid and steam the vegetables for 15-20 minutes until they are soft. Then take the potatoes and cauliflower to a larger bowl or pot. Add garlic and onion powder and a little salt if desired. Puree the vegetables using a potato masher, hand blender or food processor. If you want a silkier texture, you can also add a little hot water or vegetable broth to the porridge while pureeing. When serving, sprinkle with fresh herbs (e.g. parsley or green onion) and enjoy!
Source of inspiration: Medical Medium blog