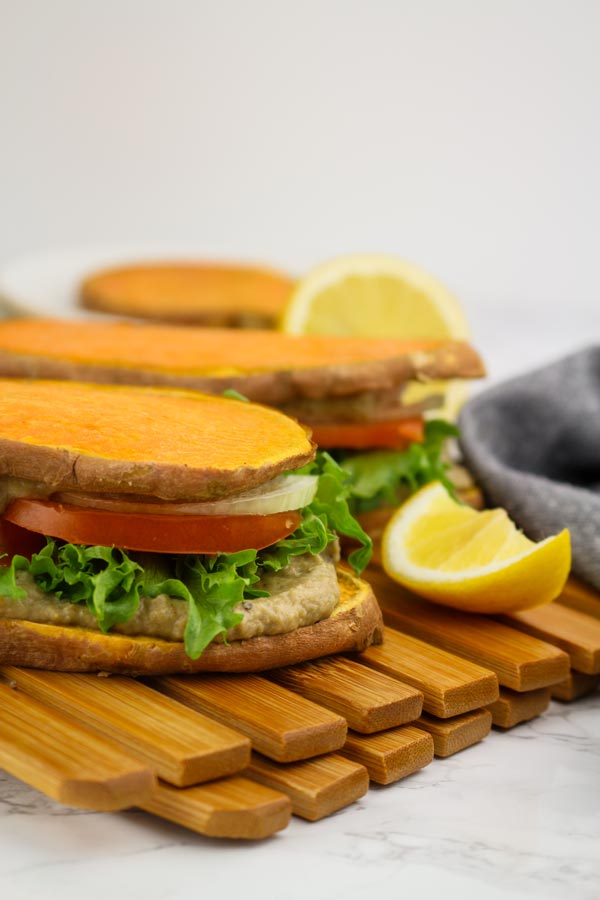 Singular sweet potato butter with eggplant hummus
Have you ever made a sweet potato sandwich? If you are, you probably know how good it tastes! But if you haven't tried it, now is a great opportunity to do so, because we are going to share a healthy sweet potato butter recipe with you right now.
Who would have thought that oven-roasted sweet potato slices could offer such strong competition to classic bread? The taste of sweet potato does not exactly resemble bread, but together with the flavourful hummus and crunchy vegetables, the sweet potato butter forms a pleasantly light yet hearty bite that is suitable for lunch, a snack and a quick dinner. A delicious snack that will win the hearts of both young and old vegetable fans. 
Quantity: for two 
Preparation time: 1h 15  
Difficulty level: easy
You will need: 
1-2 eggplants (if you use a large eggplant, one can be enough)
2 garlic cloves 
1-2 tbsp tahini 
freshly squeezed juice of 1 lemon&nbsp ;
a few pinches of ground cumin 
a few pinches of sea salt 
a few pinches of chili powder 
1-2 medium-sized sweet potatoes 
1-2 tomatoes (sliced)
desired amount of green lettuce or spinach leaves 
1 onion (sliced)
baking tray 
li>
a food processor or a more powerful blendert 
How to make sweet potato sandwich?
Start by making eggplant hummus. To do this, wash the eggplants, cut them in half and place them on a baking sheet covered with baking paper. Poke holes using a fork and bake at 180 degrees for about 40 minutes or until the eggplant is softened. Allow the eggplant to cool slightly and then place the cooled eggplant halves on a sieve, remove the skin and squeeze out the excess water from the cooked contents. Then place the eggplant with the garlic, tahini and seasonings in a food processor and whiz until smooth.
Set the eggplant hummus aside to cool and make the sweet potato slices. To do this, wash and, if desired, peel the sweet potato (unpeeled sweet potato is also suitable) and slice it into slices about 0.5-1 cm thick. Place the sweet potato slices on a baking tray covered with baking paper and bake at 200 degrees for 30 minutes until the sweet potato is soft and golden brown. Let the sweet potato slices cool and then proceed to make the sandwich. Spread eggplant hummus on one sweet potato slice, place a lettuce leaf, tomato slice and onion ring on top and repeat the process if desired. Place another sweet potato slice on top and enjoy!