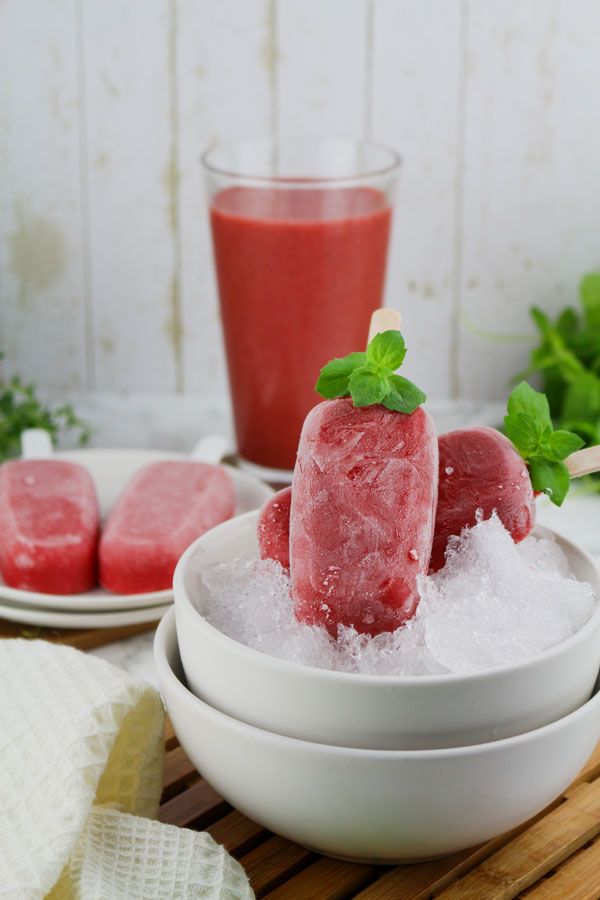 Refreshing and fruity strawberry banana ice cream
Have you made your own ice cream before? Often, making ice cream seems like a big and complicated undertaking – but in reality it doesn't have to be like that at all! This is also confirmed by the sorbet recipe below, which we are going to share with you. Ripe bananas, sweet strawberries and freshly squeezed orange juice meet in this homey ice cream recipe – no complicated ingredients or rich milk. And no sugar. You also don't need an ice cream maker to make these refreshing popsicles. The only helpers you need for these ice creams are some more powerful food processors to help you crush the mixture and your favourite ice cream molds. At the same time, these icy treats are bursting with health, and you don't always have to limit yourself to just one – stick even three in your mouth. :)?
Quantity: approx. 8-10 smaller popsicles 
Preparation time: 15 minutes + freezing time 
Difficulty level:  easy 
You will need: 
225 g ripe bananas (approx. 2 medium-sized bananas)
400 g frozen strawberries
125 ml orange juice
your favourite popsicle moulds. Preferably silicone – for easy removal from the mould.
How to make your own popsicles?
Whiz all the ingredients in a blender until smooth and divide into ice cream moulds. Keep the ice creams in the freezer for at least 2 hours or until the ice creams are completely hardened and ready to eat. Store ice creams in an airtight container in the freezer.?