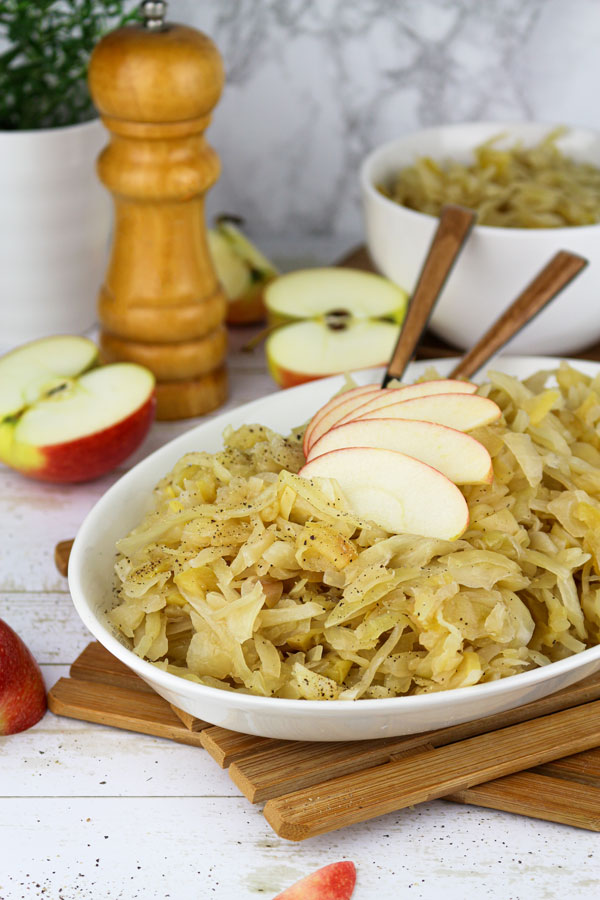 Singular Christmas cabbage with apples
If you are looking for a singular alternative to the classic sauerkraut, try this Christmas cabbage with apples and fresh cabbage! It is a cabbage dish that is perfect for the Christmas table and for serving with steak at other times. A flavourful, healthy and easy-to-prepare fully plant-based dish with only 2 main ingredients and a little seasoning to add an additional flavour nuance. It is a dish that is practically prepared by itself! Just put the ingredients in a pot, have a little patience and let the cabbage-apple mixture simmer. Then season and the cabbage dish is ready to enjoy! 
Quantity: for 4-6 cabbage lovers 
Preparation time: 40 minutes 
Difficulty level: easy 
You will need: 
1 kg white cabbage 
500 g peeled apples 
1-2 tsp sea salt (or more to taste) 
2-3 tsp coconut sugar or maple syrup (or add to taste) 
1 tbsp freshly squeezed lemon juice 
200 ml water 
How to make Christmas cabbage? 
Slice or grate the cabbage into thin strips, leaving out the root part. Then place the cabbage strips in a larger pot and pour in 2 dl of hot water. Stir and let it simmer with the lid on for 10-15 minutes. While the cabbage is stewing, clean and slice the apples into thin slices and mix them into the cabbage. Add 2-3 tsp of coconut sugar or maple syrup, 1 tsp of salt and 1 tbsp of lemon juice, stir again and then let it simmer with the lid on for 30 minutes, stirring occasionally. Make sure that the cabbage does not stick to the bottom of the pot – add a little more water if necessary. When the cabbage is done, season it with a little more coconut sugar, salt or lemon juice, if desired, and let the cabbage season with the lid on for another 20-30 minutes before serving.