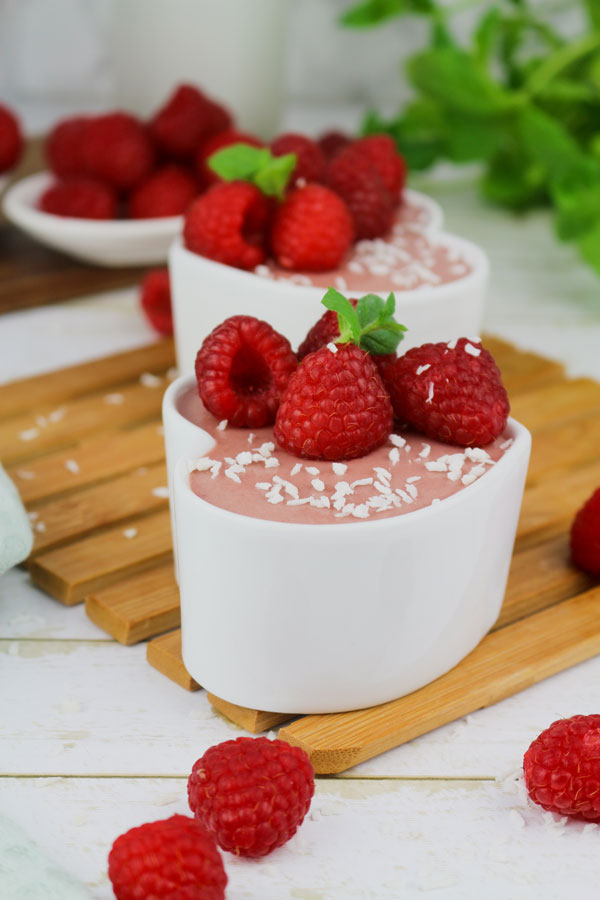 Appetising coconut Panna cotta with raspberries
An appetising flavour combination of sweet and sour raspberry and thick coconut, which together form a truly amazing pudding-like dessert, which is also ideal for serving at a festive table.
Just the right amount of sweetness, tartness and thickness – just like a good dessert should be!
The cream of the crop is the festive appearance of the treat, which will delight even the guests. However, this appetising coconut confection differs from the classic Italian Panna cotta due to its healthy and fully plant-based composition, which contains neither animal skin nor refined sugar at all. Therefore, the treat is easy to digest and does not burden your body with unnecessary substances. The preparation is also easy and does not require hours of cooking.
Be sure to try it – we promise you won't be disappointed!
Quantity: for 2-3 gourmands 
Preparation time: 20 minutes + time for the dessert for jellification 
Difficulty level: easy
You will need: 
400 ml full-fat coconut cream 
300 g fresh or frozen raspberries 
2 tbsp coconut sugar 
1 tsp agar-agar powder 
dessert moulds of your choice for serving 
fine strainer 
How to make vegan Panna cotta? 
Start by making the berry puree. To do this, puree the raspberries using a blender or hand blender until smooth. If you use frozen berries, let them thaw beforehand. Strain the finished puree through a strainer into a bowl so that the puree is smooth, silky and seedless. Then pour the silky raspberry puree into a pot together with coconut cream, sugar and agar-agar. Mix thoroughly and bring to a boil. Then lower the heat and let the mixture stew for another 2 minutes on low heat, stirring occasionally. Then turn off the heat, remove the pot from the heat and let the mixture cool down at room temperature first, stirring it from time to time. When the berry-coconut mixture has cooled, pour it into the moulds you like and place in the fridge until it hardens (from 2 hours to overnight). Serve Panna cotta with fresh berries and coconut. Enjoy!